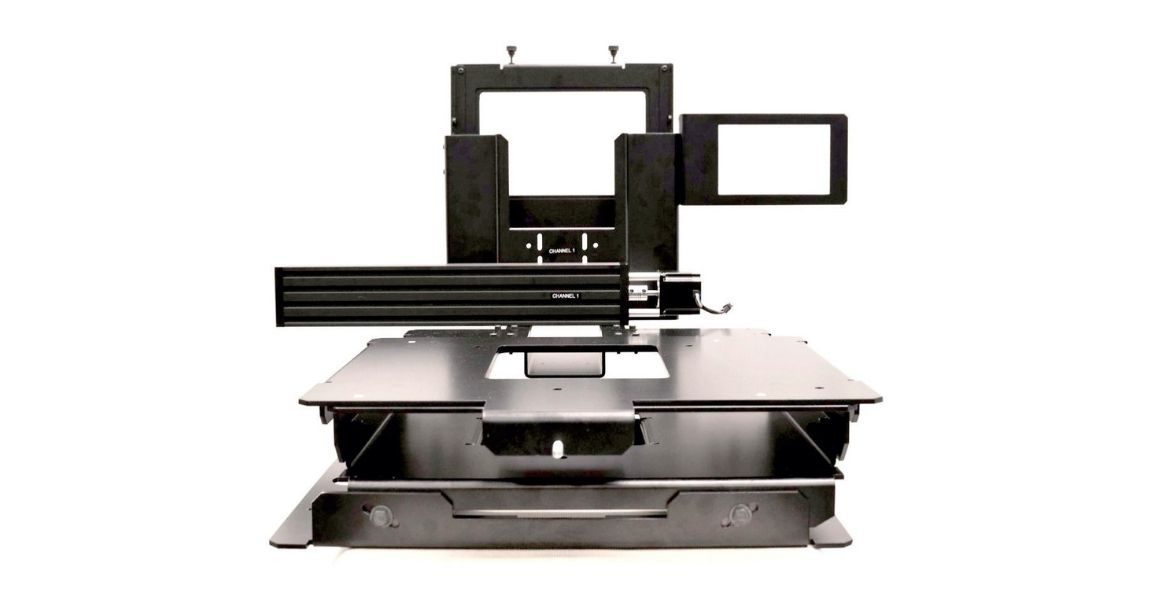 GBvi, an industry leader in the development of high performance projector optical blending solutions and display technology products, has announced the release of its Atlas-4 projector mount. Visitors to the I/ITSEC 2018 show in Orlando, Florida, from 26-30 November can see Atlas-4 on the Immersive Display Solutions Inc. stand (#1273) – GBvi's partner stand.
The Atlas-4 projector mount has been designed to significantly ease projector installation and optical alignment, with four degrees-of-freedom adjustability. Atlas-4 robustly interfaces a projector to the support structure while providing all necessary mechanical adjustments to optimise projection geometry.
Geoff Blackham, GBvi's founder and managing director, explains; "With GBvi's depth of experience and expertise, we are frequently asked for support and advice that goes beyond optical blending. One aspect in particular has been that accurate projector installation and alignment is important to achieve the required performance, yet often time-consuming.
"By designing a family of projector mounts that not only eases interfacing to Chronos optical blending but also behaves the way installers like for predictable alignment, a complementary addition to our product range has emerged."
Well-suited to a wide range of display applications including simulation, planetariums, live events, staging and entertainment, the Atlas-4 semi-custom configuration accommodates a wide range of projector models including the Barco F70 and FL40, Sony VPL-GTZ270/280, and Norxe P1. Its high configurability means that Atlas-4 variants for other projectors are easy to introduce."
Blackham continues; "After listening to customer and market feedback, we've developed a unique solution that's motion compatible and can sit under the projector body without compromising tight projector cluster designs typical in simulator designs."
Meet GBvi at I/ITSEC 2018 on stand #2615
In addition to Atlas-4, GBvi will be showcasing Chronos Glass: Greyscale and Chronos Rewind at this year's I/ITSEC – the world's largest modelling, simulation, and training conference – with a dedicated on-stand demonstration featuring two Norxe P1 projectors.
Chronos Glass: Greyscale from GBvi addresses the 'small 4K' and 8K class of projection systems where some optical trade-offs are most challenging, particularly with laser-phosphor illumination.
Chronos Rewind is GBvi's dedicated solution that allows for Auto Alignment systems to be integrated alongside Chronos optical blend masks as part of multi-channel projected displays.
GBvi solutions can also be discovered by visitors to the Immersive Display Solutions, Inc. (IDSI) stand (#1273) where Chronos Glass: Greyscale, Chronos Rewind and Atlas-4 will be in use with Barco FS40 projectors and IDSI's new low-cost curved screen.
To meet with GBvi at I/ITSEC 2018, please email info@gbvi.co.uk.
— ENDS–
IMAGE: Atlas-4 projector mount including Chronos and lateral Rewind mechanics